First few days after arriving in Korea were spent meeting different relatives. After the obligatory meet and greets with relatives, we were able to go off on our own and explore.
Gyeongbokgung, Insa-dong, Bukchon Hanok Village are all located closed to each other (inside the red square), so it can easily be done in a day. It's on the north side of Seoul (north of Han River). You can see Gangnam at the lower right side of the map.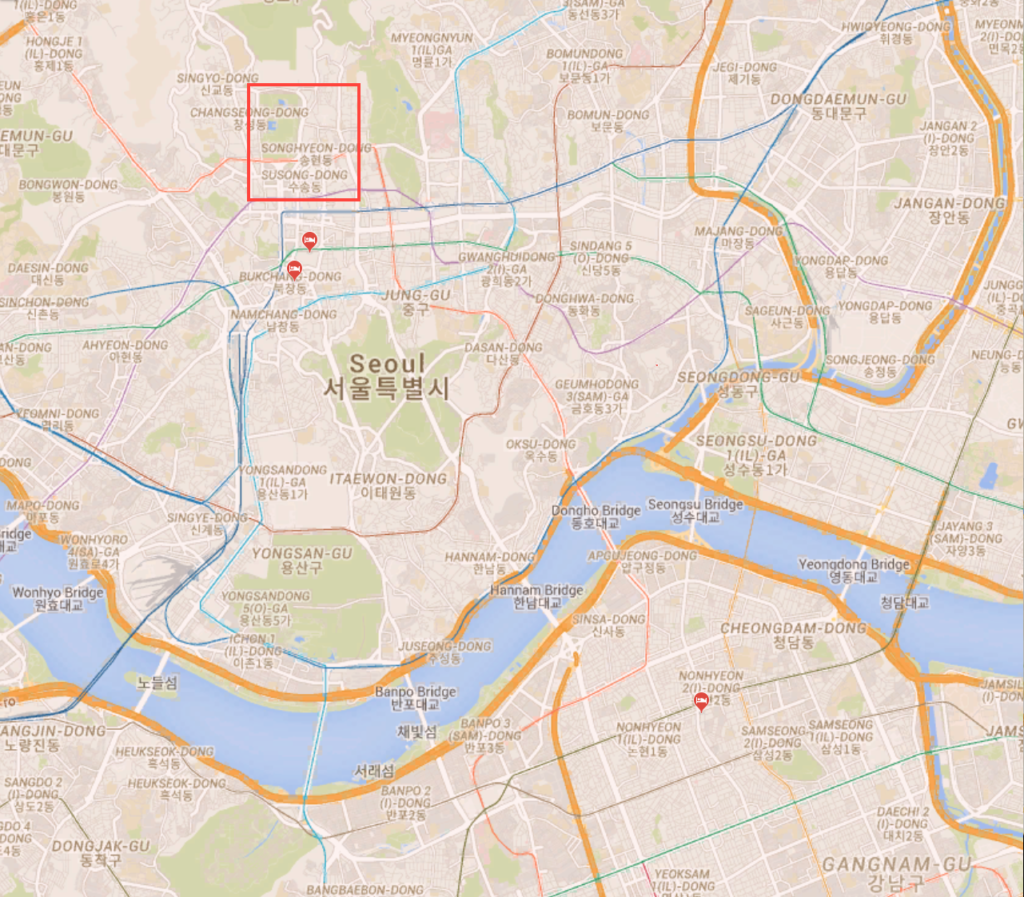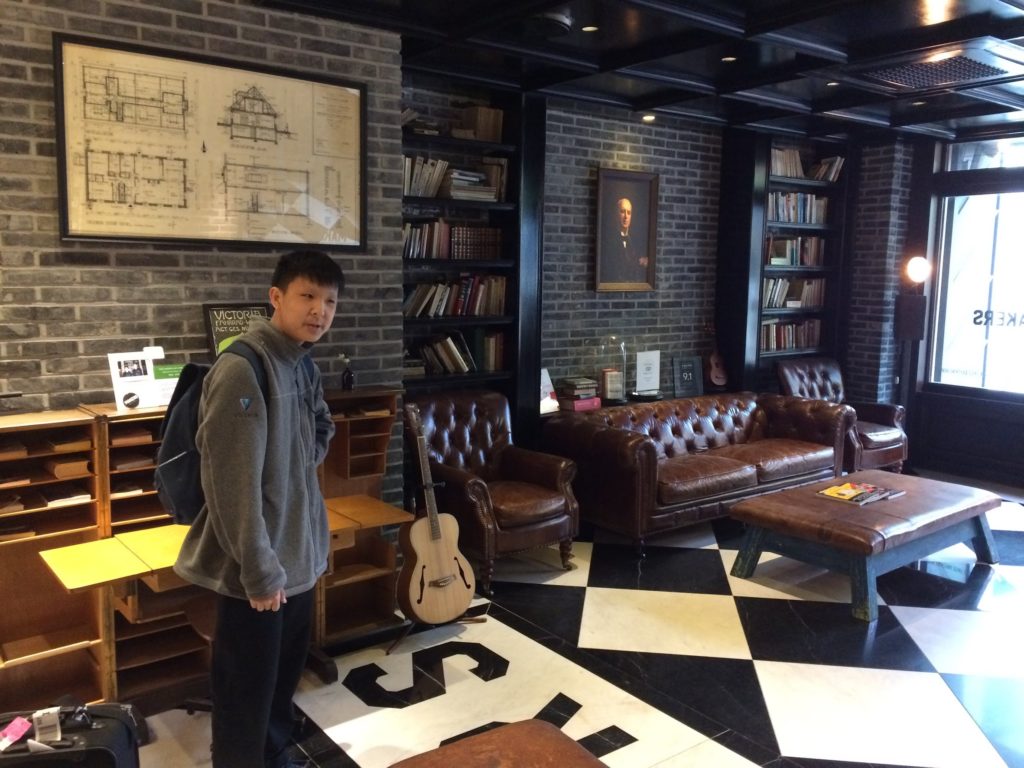 I booked this hotel because it looked really cute, had three beds (one twin and one bunk bed with two twins), close to places we wanted to visit. I booked all hotels with Chase Sapphire Reserve points on their points award site, which lacked good user experience. I had to go between the site and TripAdvisor site to make sure I wasn't booking a roach motel. Nevertheless, it was a good choice. While the room was super tiny, we were only there to mostly sleep, it didn't matter much. Location was perfect. Kids liked it too.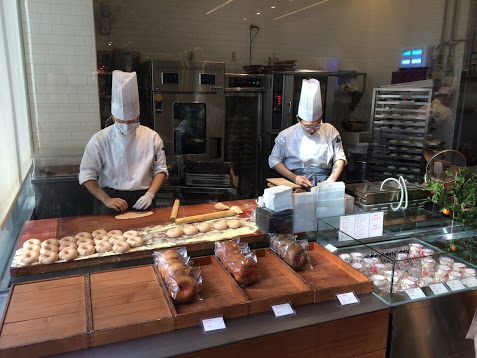 The hotel had breakfast buffet for about $10 per person, but it really didn't look that good. So, I used MangoPlate app to find bakeries/cafes around my location (the app didn't have breakfast category) and looked for ones that are open early in the morning. Interestingly most bakeries/cafes do not open until lunch time. :( FourB had good rating and it was on our way to Gyeongbokgung, so we stopped by here for breakfast.
OMG. The bagels were phenomenal. As you can see in the photo, they bake their own bagels on the site. And those bagel makers (I don't know what to call them really) wear chef hat and shirt!!!! Koreans always tend to take things to the extreme. Anyhow, it was very good and it was a good way to start the day. :)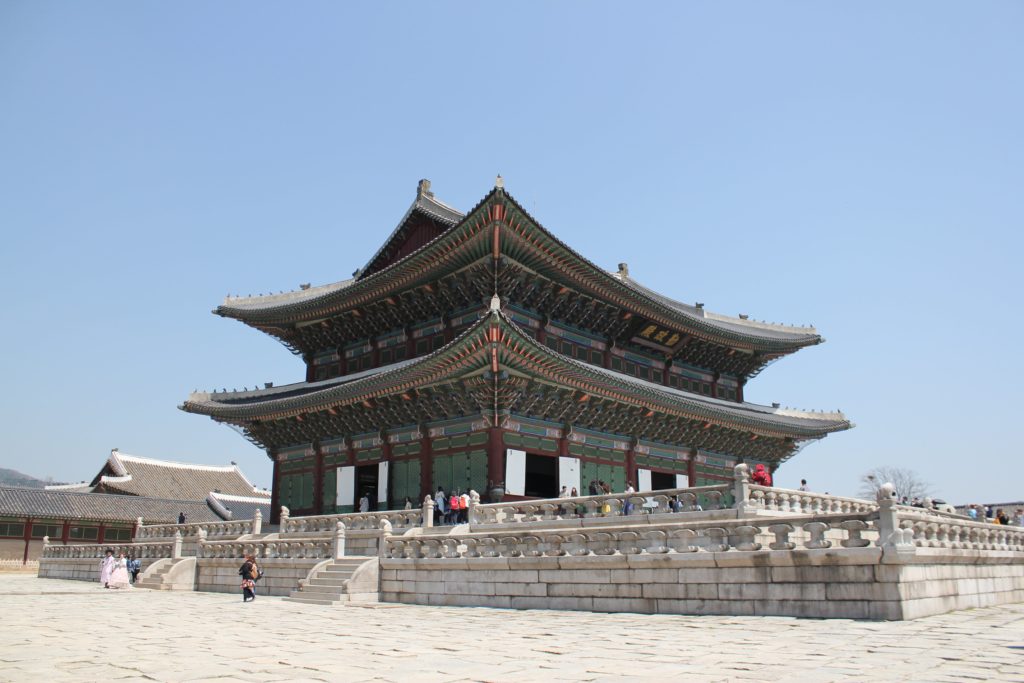 We totally lucked out when we got there. It was around 11AM, and we were just in time to catch the change of the guard. You can actually see the whole video here. Even though it was Monday, it was packed.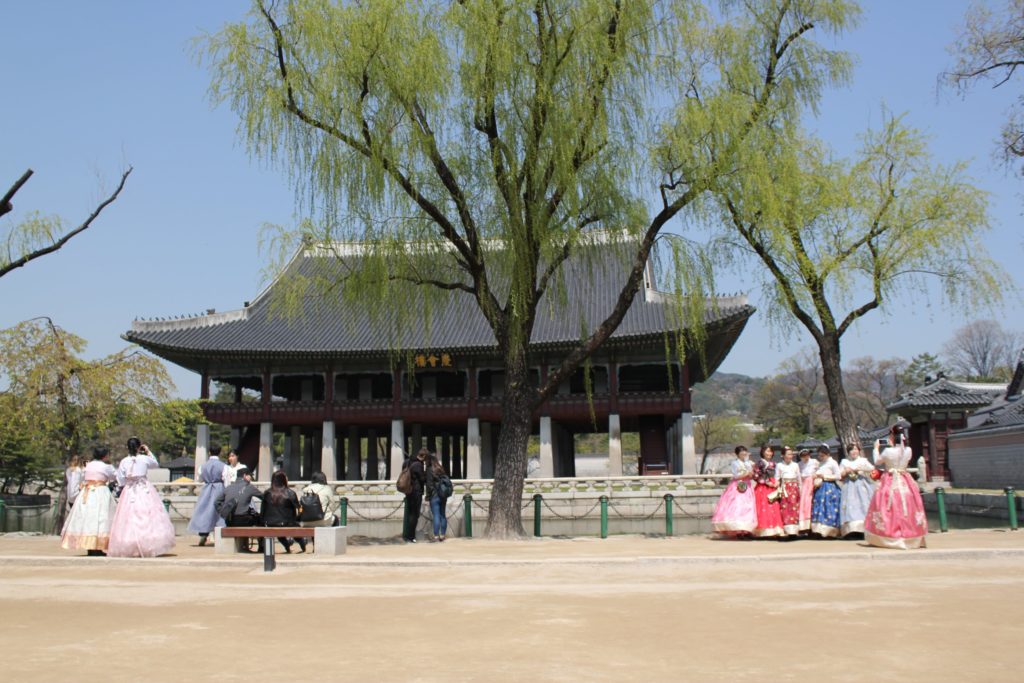 You can see in the photo above that there are many people wearing traditional Korean dresses (한복, hanbok). You can rent them near the palace, and admission to the palace is free if you wear a traditional dress. Admission fee is around $6, so it's not too bad if you have to pay the fee. We of course didn't rent the traditional dress.
The palace covers a lot of ground, so I would recommend you wear a comfortable walking shoes.
This is a cool place to visit as a visitor to Korea because it's filled with stores that sell souvenirs. I didn't take any pictures, but I have a short video of our walk through the area here. We walked through here to get to Bukchon Hanok Village.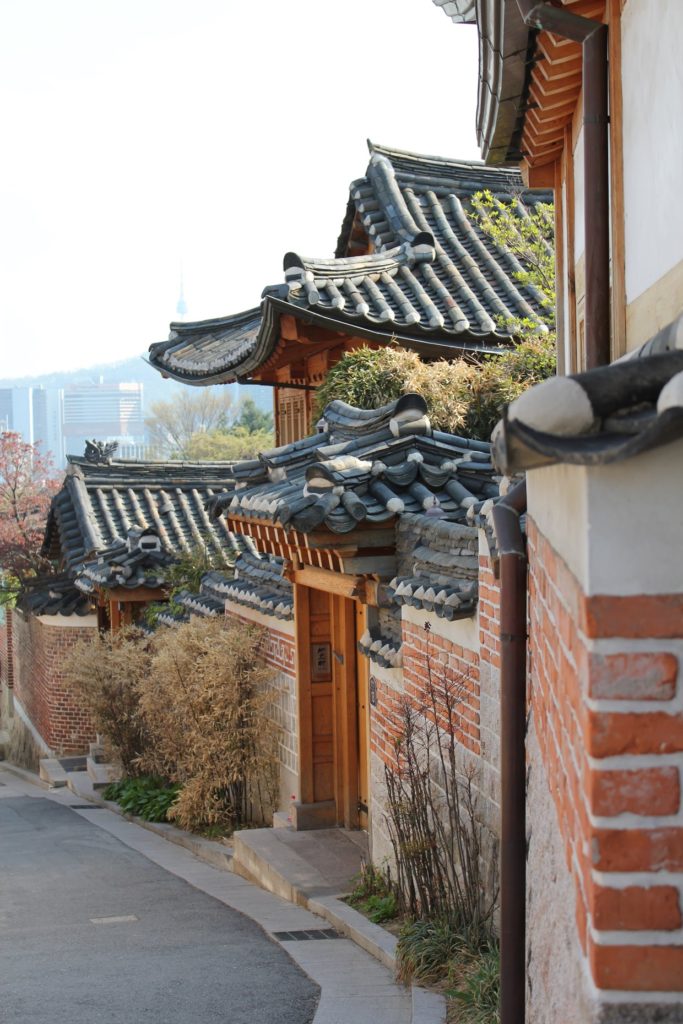 This is the first place I felt disappointed. It was supposed to be a small village of old style houses, but there weren't whole lot of houses and it was full of tourists. The number of tourists shouldn't have surprised me, but still, it totally ruined the whole experience. Not only that, because kids were really tired of walking and they were complaining a lot, we stopped by a nice looking tea cafe and ordered their desserts, but the owner told me that I also had to order a tea. I would have said that's a bullshit and left, but since kids were complaining too much about walking too much, I said whatever and paid for a cup of tea. I guess it shows the over-commercialization of the area. Oh, well.
While kids stayed at the cafe, I took a walk through the village, which I wasn't too impressed with. We ended the day soon after. I planned to visit more places, but I had to end the day earlier because of kids' complaints. Oh, well. The life of a parent. :D